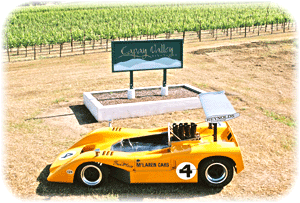 Tom Frederick started in the racecar industry in 1968 - running an A production Corvette with Tom Dutton - who went on to test drive for Chaparral cars. Most of his career was involved with the Can Am (Canadian American Challenge Cup) Series - later with the F5000 open wheel series in the mid 70's. In 1973 he was crew chief for Bob Nagel, ASR National Champion. He also participated in various IMSA and Indy projects.

Tom worked with many notable drivers and teams during his competition career - Jackie Stewart, Bob Nagel, Bobby Brown, Jim Hall, Al Unser, Jr., Al Holbert, Geoff Brabham, Gordon Dewar, John Gunn, VDS Racing and Chaparral Racing.

In the mid 80's Tom's competition career transitioned to one of restoring Can Am and F5000 cars for vintage racers and collectors. His restorations are in museums and with private collectors worldwide.

Tom considers his latest restoration - that of the 1969 McLaren 8B high wing car to be his signature project. The car was originally built in England for New Zealander Bruce McLaren and Company. The 8B is possibly the most significant car of the Can Am era. The car has appeared at several vintage venues - most notably at Goodwood in England.