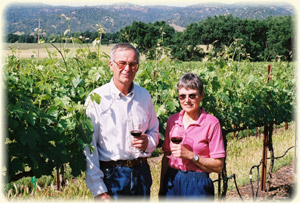 Capay Valley Vineyards was established in 1998 by Tom Frederick and Pam Welch, long time residents of Capay Valley, CA. This beautiful valley is located in the northwest corner of Yolo County bordering Napa and Lake counties. It is approximately 1½ hours from San Francisco and an hour from Sacramento.
Capay Valley Vineyards produces wines from their own grapes. Varietals were chosen to complement the climate and soils. All vineyard tasks - pruning, shoot thinning, and harvesting are done by hand and tailored to each variety. Harvesting is done at night to ensure that the fruit is cool to start the winemaking process.
Terri Strain, well respected winemaker from Sonoma County oversees all winemaking operations bringing with her 20 years of experience. She combines the best of science and art to bring out the fruit characteristics of each varietal. Oak is used lightly to add mouth feel and structure but not overpower the fruit.
In 2003, after a two year federal process, the Capay Valley was designated an American Viticultural Area (appellation). During research for the application, it was discovered that in 1861 there was a Capay Valley Winery that received the distinction of "the finest vineyard in the state." Capay Valley Vineyards is happy to have brought the history full circle as they are producing award winning wines in Capay Valley once again.